Information for potential iPSC line depositors
Summary of deposition process
Depositing induced pluripotent cell lines with EBiSC is a 3 step process: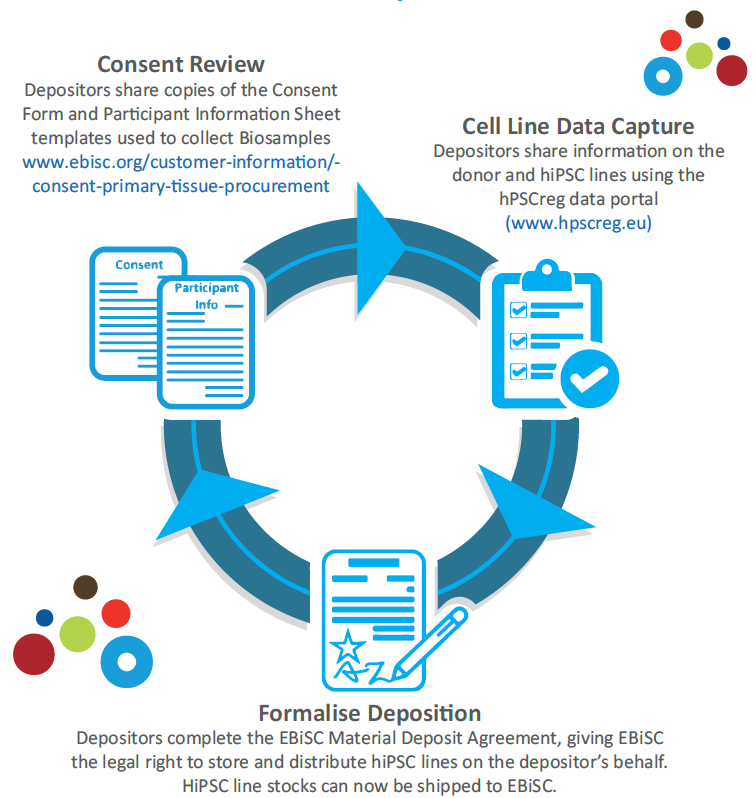 1. Consent Review and Initial Depositor Application
Initial Depositor Application
Provide initial information on the cell lines to be deposited, the background of the donor(s), the original bio-specimen(s) and the consent obtained.
To enquire about depositing your iPSC lines please download and complete the Depositor Initial Application form and email it to deposit@ebisc.org.
EBiSC will confirm if applications to deposit can proceed to the next stage.
2. Detailed Cell Line Data Capture
Detailed Cell Line Data Capture
Provide detailed scientific information on the cell lines such as derivation method, characterisation and culture conditions.
To submit your cell line data, please register your cell lines as "EBiSC" lines by following the EBiSC Cell Line Data Registration Guide. If many lines need to be submitted, EBiSC may be able to support. Please contact EBiSC to enquire.EBiSC first.
3. Formalise deposition
Complete the EBiSC Material Deposit Agreement (EMDA).
The depositor will benefit through:
Making valuable research tools available to the wider scientific community in a standardised and sustainable way
Rigorous quality control data will be generated on the lines and provided back to the depositor
Avoiding future costs associated with maintenance and distribution of valuable cell lines
Reducing the time spent negotiating legal agreement with third parties to share your cell lines. EBiSC uses standard agreements in its role as the first point of contact and distributor
Satisfying the requirements of funding bodies and journals to share cell lines after publication
Remaining the owner of the lines and referral point for potential future collaborators via EBiSC contacts
Contact us
EBiSC has a dedicated Bio-Sample Acquisition team that will help to collate the information for deposition. Contact us if you have any questions about this process.
Additional guidance on the deposition process is available here.
More information
Frequently Asked Questions - For more information on the deposition process please check answers to some of the most common questions.