Delivering a mature banking and distribution operation
The ability of EBiSC to bank and distribute cell lines to satisfy user requests will be underpinned by the project reaching a number of key milestones as the operations are put in place.
The first project phase successfully established routine and robust procedures for collecting, banking, characterising and distributing EBiSC iPSC lines. The collaboration of iPSC research projects and deposit of established, authentic iPSC lines made from normal consenting donors, were pivotal in validating many of these standard procedures.
A gap analysis to assess what is existing and accessible and what is needed currently by users has identified new opportunities for EBiSC. Proactively broadening the EBiSC Collection to include many new disease representative and gene-edited lines for research and the provision of differentiated cell products and iPSC services will represent major distinctive features for the EBiSC catalogue.
The following five key components will come together in support of the development of mature banking and distribution activities.
The design and implementation of bioengineering and quality control testing technologies will lead to eventual cost reductions, while increasing operational scale.
Users will access far greater data than provided by other cell banks, on individual iPSC lines in the catalogue via the bespoke information management system.
Harmonisation of standards, policies, procedures and legal instruments, based on increased understanding of stakeholder interests and user needs will be implemented.
Finally the strategic trajectory of the EBiSC banking and distribution operation will be mapped out in preparation for reaching self-sustainability. This will include a plan as to how it will collaborate with other iPSC global projects based on overlapping interests and also identify unique EBiSC propositions.
Overall these components will be integral to mainstream EBiSC operations so that before the end of the project EBiSC2 will have demonstrated the capacity to operate a sustainable and mature operation for which all of the major infrastructure and related technology development will have been completed.
iPSC Centres
The EBiSC consortium includes specialist iPSC centres from academia, small enterprises and not-for-profit organisations, which have an established track record in the generation of new iPSC lines and direct connections with clinical and patient groups. This will allow EBiSC to rapidly access iPSC lines and disease-specific tissues from a variety of European sources. iPSC Centres will generate new iPSC cell lines and deposit them into the EBiSC bank.
EBiSC iPSC facilities
The ECACC facility is at Porton Down (Salisbury, UK). The mirror facility at Fraunhofer IBMT (Sulzbach, Germany) will provide comprehensive operational back up.
Bio-engineering & automation
These activities are led by Fraunhofer IBMT to evaluate and develop improved stem cell culture and cryopreservation systems.
iPSC Differentiation
Additional services such as bulk production of hiPSCs and delivery of pre-differentiated cell populations will be developed with input from academic, non-profit and commercial partners to facilitate the use of hiPSC in research.
Quality Control & Characterisation
By delivering standardised high quality, cost effective and rapid scientific characterisation data for the banked iPSC lines, Fraunhofer IBMT and ECACC ensure that EBiSC meets the standard of quality required by the end-users.
Distribution & commerce
The European Cell Culture Collection (ECACC) of Public Health England (Department of Health, UK) will store distributable iPSC lines, process orders via their e-commerce platform and coordinate cell line distribution.
Information Management System (IMS)
The EBiSC IMS allows users to submit, search and retrieve a rich collection of data on each iPSC line banked, and will be further developed by Fraunhofer IBMT to improve search functions, linkage to datasets and to increase the breadth and depth of datasets available.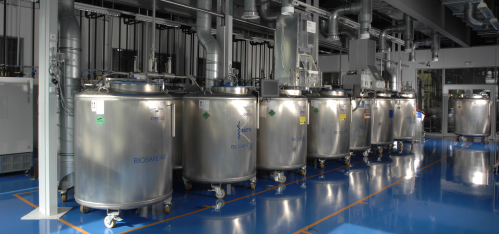 Biobank © Fraunhofer IBMT, Photo: Bernd Müller
Further reading
The ECACC Facility
EBiSC's main distribution stock is held at the purpose built ultra-low temperature cryostore located at ECACC (European Collections of Cell Cultures) at Porton Down (Salisbury, UK). This has a capacity to store over 2 million cryovials and enable EBiSC to build on ECACC's existing knowledge and expertise to distribute frozen viable cell lines globally.
The Mirror Facility in Sulzbach, Germany
A mirror bank holding a smaller quantity of each cell line is held at the Fraunhofer Institute for Biomedical Engineering (IBMT) in Sulzbach, Germany. The facility is a fully automated, state of the art cryobanking system with a self-contained low-temperature cool chain to ensure the security and consistency of EBiSC cell lines. The mirror bank is controlled by the EBiSC central site and serves additionally as supporting capacity.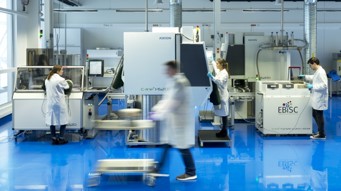 Cryostorage room with automated biobank consisting of three cryotanks and a cryoworkbench. The cryotanks are equipped with a protective hood system and are connected with a conveyor belt. © Fraunhofer IBMT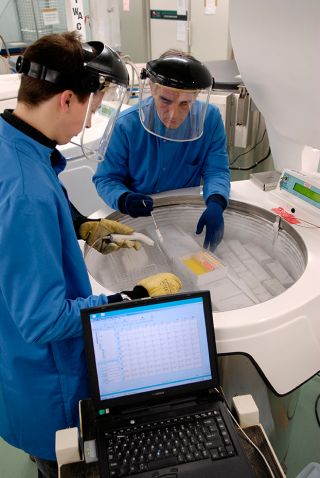 The EBiSC distribution and storage facility at ECACC (Porton Down, UK), © EBiSC